Consecration to Jesus through St. Joseph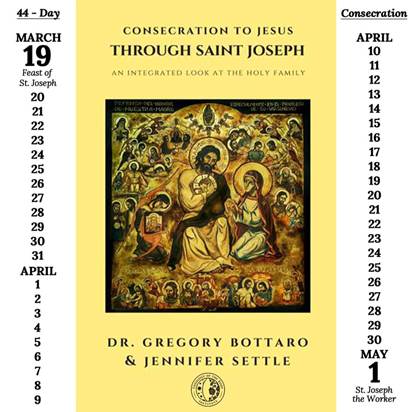 Please join us in a consecration to Jesus through St. Joseph. Look at it as inviting St. Joseph to be your spiritual father, helping you grow closer to God. We will be using a daily devotional book called "Consecration to Jesus Through St. Joseph" to help guide us through the process of preparation. We will begin together on The Solemnity of St. Joseph, Husband of the Virgin Mary (March 19) for a 44-day preparation, making our consecration on the Feast of St. Joseph the Worker, our parish's patronal feast (May 1).
We encourage you to do this together in community, find some friends or family from the parish, work, school, or even from across the country. To Join us you can signup up for the free daily emails or buy the book (parish office, Amazon, or tobinstitute.org – $5). and meeting once a week to share and discuss. Since our start date is a Friday we will release a video every Thursday as a recap of the week. You can use the video, a dialogue between myself and Jen Settle, one of the authors, to assist your group's discussion if you'd like.
To signup to receive the daily email Click Here
We will have Mass on Friday March 19 at 12pm and 7pm (bilingual) to mark the beginning of our preparation. We will celebrate Mass and make our consecration on Saturday May 1 at 9am for those who are able to join us.
To print out the schedule right mouse click on the book cover above and click save image as once you save the image to your device you can print from there.
As a supplement to our group discussions and videos author Jen Settle has a Evening of Reflection you can get it Click Here
Trailer
Preparation for Consecration
Week 6 recap
Week 6 intro
Week 5 recap
Week 5 intro
Week 4 recap
Week 4 intro
Week 3 recap
Week 3 intro
Week 2 recap
Week 2 intro
Week 1 recap
Week 1 intro
Introduction