Here are the Latest Upcoming events in the Parish.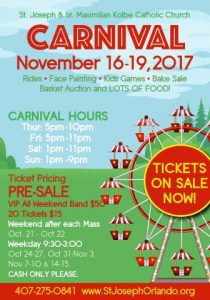 ---
Set Up Crew –
Needs to be available 3 weeks prior to the carnival to set up tents, booths, and electrical service. This committee will also need to be available to set up tables and chairs the day before the carnival.
Break Down Crew – Your availability has to be open to start at least 2 to 3 hours prior to carnival closing. This may entail staying late hours after the carnival close. This will include basic breakdown of tents, picking up garbage, putting away the tables and chairs and securing any games from the carnival booths. This normally lasts 3-5 hours depending on the volunteer base.
Ticket Sales – This may include selling carnival tickets, 50/50 Raffle tickets or game booth tickets. In order to work this booth, you must be fingerprinted by the Diocese.
Beer Booth – Must be at least of legal age of 21 or older. Must have the ability to know how to card the individuals to make sure they are of legal age for drinking. If handling money you must be fingerprinted by the Diocese.
Food Booths – If you would to participate in any of the food booths, please sign-up and the individual committee will contact you. The different cultures participating this year will include Hispanic Food, Polish Food, American Food, Filipino Food, Vietnamese Food, Cheers Tavern (drinks and basic snacks) and Funnel Cakes.
Bakery Volunteers – You will have to clean up and organize the baked items. Keep the area sanitary and clean, price the items, sell coffee, replenish drinks and sell items. If you would like to work the cash register you must be fingerprinted by the Diocese.
Cleaning Crew – Pick up garbage throughout the event, replace garbage bags, clean restrooms and stock them with hand towels, soap and toilet paper.
Volunteer Check-Ins – This group will check in all volunteers scheduled to work on a specified day/position post.
Advertisement – Will help to distribute flyers, post local advertisements in various community groups, radio stations and other forms of media. Help design flyers, make posters for various carnival booths and coordinate banners if any.
Parking Attendants – Help people find parking spaces and keep the flow of the parking traffic safe.
After Party Committee – Help organize a thank you lunch/dinner for the carnival volunteers.
Lost & Found Booth – Document in the lost & found logs items lost & retrieved thorough out the carnival.
Counters – Must be fingerprinted by the Diocese. Be able to count money, organize deposits, issue receipts, replenish petty cash drawers as needed and document money counts accordingly.
Communications – Call volunteers to confirm their attendance and carnival assignments a week prior to the carnival.
First Aid Booth – Assist with basic first aid needs.
Information Booth – Help attendees or volunteers locate items throughout the carnival grounds by providing maps, sharing about ride attractions, game booths, food booths, and directing them to ticket counters.
Book Booth – Volunteers needed to organize and guide attendees where to find certain book sections. If handling cash must be fingerprinted.
Face Painters / Balloon Artists – If available, please sign up and contact the Parish Office.
If interested in volunteering, please contact Anicia Rodriguez, at the parish office at 407-275-0841 or via email at carnival@stjosephorlando.org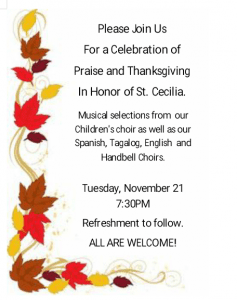 ---
St. Josephs Women's Guild
The St. Josephs women's guild would like to invite you to
Come listen to Fr. David Scotchie. He is the current pastor
At Most Precious Blood in Oviedo. He will be our guest and
Has been asked to come talk about his two books,
Can I pray With You
, and
I Can't, I Can, I will
. Fr. Scotchie has written many articles in the Florida Catholic over the years. And was formerly the pastor at St. Maximilian Kolbe.
The event is Monday November 6th, 2017.
From 1 pm until 2 pm
The ladies of the guild will provide light refreshments after the noon mass. In the social hall. Come join us.