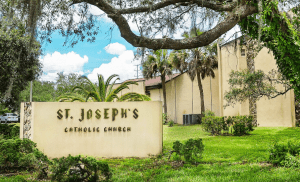 Main Office Hours:
Monday – Friday 9 a.m. – 3 p.m.
Eucharistic Adoration: Friday 3:00 p.m. – Saturday 3:00 p.m.
– Volunteers are needed so we can continue our Eucharistic Adoration.  If you are interested in volunteering, please call the parish office.  Signing up does not mean that you are committed for life.  Every week we call volunteers to make sure that you are able to cover your hour(s).  If you are not able to make it, we will ask another volunteer to cover for you.
Confessions:  Saturday  3:30 p.m. – 4:45 p.m. or on weekdays by appointment
Registration:  Parish registration can be done in the Rectory Office Monday – Friday 9 a.m. – 3 p.m.
Clergy:
Fr. Benjamin Lehnertz

Parochial Administrator
Photo Gallery: